Best Spray Paint For Rims – Buyer's Guide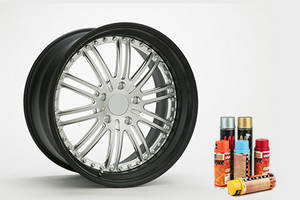 Having dingy, old looking rims can make the newest of cars look old. It can make luxury cars look as though you bought it off of a used car lot and put old tires on them.
To keep your car looking pristine you need your wheels to keep up with the rest of the car and look just as good and just as shiny. The only problem is the fact that unless you are fabulously wealthy, you probably cannot and do not want to shell out a ton of cash and buy brand new wheels, rims and all, every time the old set starts to look a little worn out from driving you around.
The good news is that you can have wheels that look better than brand new, without ever having to actually buy new wheels!
You may be wondering how that is possible, and the answer lies in a surprising place, all you need is a little bit of spray paint and the patience to take on an easy DIY task. By using spray paint and just a little bit of your own time, you can restore your wheels to how they looked when you first rolled off the lot, and be back on the open road with radiant wheels that didn't break your own bank.
Below is a guide that will help you choose the best spray paint for rims. This guide will take you through the pros and cons of the best paints on the market which will hopefully help lead you to make the right decision so you get the highest quality, most durable spray paint for your wheels.
Best Spray Paint For Rims in Oct, 2019
VHT Aluminum Wheel spray paint is a polyurethane based spray paint that is designed for aluminum or steel wheels.
No matter what make and model of car that you have, VHT aluminum paint is designed to provide a smooth, elegant finish that also makes the wheels incredibly durable whether they be standard factory wheels or wheels customized just for you!
You may love to go off-roading and taking your car into places that have harsh conditions, or you may just use your car for regular day to day driving, either way, your wheels are going to be exposed to harmful elements like sand, dirt, constant sun exposure, rain, etc.
These natural elements are actually quite harmful to wheels and can cause them to get beaten up and be at a higher risk of rusting out, getting cracked or chipped, and just looking bad overall.
This spray paint is unique in that it can give extra strength to your wheels and protects them from being harmed, keeps them looking shiny and new, and protects your wheels from the weather.
You must prepare your wheels properly so that the product sticks and performs the way it is supposed to perform. Once the wheels are properly prepared for the product you can spray it on and have it dry to the touch in just 30 minutes, and it is completely hardened and dried overnight and ready to go when you wake up in the morning.
Pros
Complete step-by-step instructions are on every 11 ounce can.
Easy for people to use even if they have never painted wheels before.
Stays looking as good as the day you paint them for months after.
Sprays on evenly and has incredible coverage even with just one coat of paint.
Takes only 3-4 cans of paint to completely cover all four wheels.
Incredibly durable paint and protects against weather elements.
Cons
Has to be sprayed on from just the right distance as it is a thin paint and can pool up otherwise.
Does require a lot of preparation as you have to do wet sanding, dry sanding, and cleaning of total surface area for each wheel.
If the paint does not dry completely between each coat the paint has been known to chip within weeks.
The Dupli-Color black spray paint is a highly reflective paint that has a beautiful, elegant metallic finish to it. This paint can be used on all wheels and their accessories which makes it one of the most versatile spray paint options out there.
Not only does the paint have the ability to restore your wheels to look as beautiful as they did the day you bought your brand new car with brand new wheels, but it can also give your wheels a customized look that turns heads when you drive by.
The paint is incredibly durable and strong enough to resist cracking or peeling even after a single coat, and it is resistant to brake dust and chemicals which are known for wearing down wheels.
The paint dries to the touch in only thirty minutes so spraying on two or three coat does not take hours or days, and it is completely hardened and cured overnight.
Dupli-Color black metallic spray paint sprays onto your wheels and its accessories smoothly and evenly and rarely leaves behind any type of splatter or pooling. Its coverage is so good that you may only need one coat for complete coverage, and even with 2-3 coats sprayed on it only takes three or four cans to completely cover all four wheels.
Pros
It is incredibly easy to use this aerosol can and makes the wheels look factory-new.
Protects your wheels against natural materials that can scratch them up or leave them cracked and corroded such as sand, salt, and chemicals on the road.
You can get a clear finishing spray to make it extra protected with a high-gloss finish, but it is still durable and glossy when used on its own.
Paint dries very smooth and evenly without streaks, and the can is fashioned so that it covers a lot of surface area when sprayed.
Cons
Takes hours to sand and clean the wheels enough so that the product adheres to your wheels properly.
Clear coat finish takes a long time to cure and can scratch easily if used before then.
The tip does have a wide coverage spray making it difficult for some users to perform small touch-up jobs for things like scratches and scuffs on the wheels.
This 11 ounce can of car spray paint comes in a steel or a matte black finish and gives your wheel a long-lasting elegant finish that is smooth and shiny.
The American made product not only makes your wheels look like you just drove them off the lot, but it makes your wheels so durable that they are able to fight off rust and prevent corrosion that builds up after long-term use over the years.
Rust-oleum steel spray paint is best used for wheels that are made out of aluminum or steel and have plastic hubcaps as it sticks to the wheels better.
For a good paint job that ensures total coverage, it will take about one can per wheel which will get you 2-3 coats of paint per wheel.
The paint needs to bake for about an hour in-between coats, so though it is a durable, great looking option it will take some time for the surface to harden completely and get you the long-lasting wheel coverage that you are looking for.
The product is guaranteed to spray on smoothly without drippage or clotting from the paint, and it gives so much coverage that on some wheels 1 coat of paint may be all you need to make it look brand new again!
Pros
Matches factory matte black and steel colors so it can be used for easy touch-up jobs as well as full coverage paint jobs.
Sprays on smoothly and evenly.
Weather resistant paint that lasts through snow and rain.
Comes with a top-layer spray that gives it a deep shine and extra protective coverage- but the paint has a shiny finish to it even without the finishing spray.
Cons
Many users report that the flat matte black paint still has a shiny finish which can be negative for those who wanted the matte finish.
It does take a long time to prep the wheels properly as you have to sand and clean them just right for the product to stick.
Large round nozzle on can make large-coverage projects awkward to do
The Metalcast spray paint is the solution to people who want to take their chrome wheels to the next level. It gives your wheels a real metal look on a non-metal surface and is a durable paint that lasts for years.
The first step to applying this paint is to put on the primer (MC100) which makes it a heat resistant product, then put on the first coat which is a fast-drying paint.
Even with just one coat of paint, you will achieve a bright, transparent wheel.
The spray paint is specially formulated to adhere to any type of wheel as long as it is properly prepared whether it be bare metal or faux chrome-looking surfaces.
The Metalcast spray paint goes on it an easy one-step process and is formulated to give your wheels the durable enamel finish that it needs to survive oil, gas, heat, extreme cold, rain and snow, and other elements that break down wheels over time.
Pros
The high-grade nozzle that it comes with makes spraying easy and consistent.
Durable paint that lasts for years with or without the primer and clear coat top.
Dries to the touch in only thirty minutes and completely cures over night.
Cons
Paint is very thin and can come out runny meaning you need to do several coats.
Paint color is not an exact match making spot-paint jobs not possible to do.
Not a true metallic finish- has more of a satin finish.
Thinness of the pain often causes the paint to drip and come out in spots.
No matter how bad the weather gets or how cold or hot the temperature may be where you are located, this specially formulated spray paint is designed not to get weak or crack. It is one of the strongest paints on the list!
If your car has Plasti Dips that are on the rims, then this paint is the one to use in order to make its look enhanced and keeps the rims lasting long, possibly longer than even your car lasts.
It comes in a pearl metallizer finish which gives it a real shiny, metallic finish that is designed to stick.
This product goes onto your wheels with a super smooth finish and comes with a finishing clear coat paint which adds an extra layer of shine and protection to the wheels.
With just one 11 ounce bottle of this paint, you can almost completely cover three entire wheels, and it only takes two or three coats of the product on each wheel so it is one of the most efficient paints and gives you the most bang for your buck.
Pros
Ergonomically designed can and well-designed can that allows the product to spray easily and evenly with good control.
Whether you get the chrome paint or the black paint, it looks great and has a durable, metallic finish.
Adheres to the wheels easily and does not allow for any peeling or flaking no matter how extreme the temperatures may be where you are.
Cons
Has a glittery finish which puts off a more sparkly look than a metallic look.
For many users they found that it does not add a chrome or sparkly finish, but more of a matte finish when applied on top of plasti-dip.
The white spray paint does not go on evenly and leaves a lot of uneven spots where it goes on.
PlastiKote Gloss black wheel paint comes in a 12 oz. aerosol can. This product is formulated specifically to be sprayed onto wheels and provide a durable long lasting coating on the wheels which keeps the wheel from obtaining any scratches, dents, getting tarnished, or getting corroded.
The specially formulated black paint is formulated to adhere to your car or motorcycle's wheels though it also works well on hub caps, car grills, and even bikes.
It is a weatherproof paint so it keeps your wheels from sustaining damage from natural elements like rain or snow and rusting out. It is an easy to apply paint that sprays on evenly and provides complete coverage on the entire wheel with as little as one coat.
Pros
Extremely easy to apply – users don't even have to apply coverage to the tire before using it.
Has a nice satin finish between gloss and matte.
Adheres to all types of wheel materials.
Only takes 2-3 cans of paint to paint all 4 wheels with several layers.
Finishing clear coat helps to seal the paint, but it is extremely durable and long-lasting even without it
Cons
The spray comes out in a powder-like consistency so spraying it from the right distance for a good finish can be tricky.
Color of the paint does not exactly match most aluminum wheels or hub caps.
This is a unique type of spray paint as it gives a wheel an effect over the existing chrome wheels that you have.
The paint does not cover the wheel entirely, it instead gives the wheel a high gloss finish that is incredibly durable. It leaves your wheels with as bright of a chrome finish as the day you first bought it, and the clear coat that comes with the kit gives your wheel a long-lasting extremely glossy finish that catches the eyes of passers-by.
The clear coating also gives your chrome wheel extra gloss and an added depth that keeps the wheel looking good for as long as you drive around.
Dupli-Color blackout coating kit keeps your wheels protected from elements like rocks, sand, chemicals on the road, and more no matter how often you drive around. The spray paint also protects your wheels from undergoing corrosion and rust due to weather wearing it down.
Pros
Weather proof chrome paint that keeps your wheels from rusting out or corroding.
Incredibly easy to apply with a smooth chrome finish.
Dries to the touch thirty minutes after application and a new coat can be applied that fast.
Оnce you get the hang of it and do a few practice sprays on paper you can get it applied to your wheel seamlessly without any runs.
Cons
Does not hold up well when harsh chemicals like gas are spilled on it.
Takes about five coats of paint and a lot of time to get total coverage on the wheel.
You have to prepare each wheel by wet sanding, dry sanding, and cleaning each wheel individually so that the paint adheres to the wheel at all.
It does peel off if not given the right time to cure.
Dupli-Color Perfect Match Premium Automotive Paint is a beloved paint for car wheels for several reasons.
It comes in such an easy to use canister with a well-designed nozzle that makes spraying the paint easy and accurate.
You can buy this spray paint in just about every color imaginable from the more traditional black and silver colors, to more outlandish colors that match colorful personalities of a car's driver with colors like spruce green to bright red and stark white.
Whatever color it is that you want, Dupli- Color can deliver it.
The Aerosol spray paint can be used on any type of wheel whether it is metal, aluminum, or otherwise, and gives you a paint job that is of the highest quality and is highly durable so that once you apply it, you will not need too again for a very long time.
The paint dries quickly and is specially formulated to come out in smooth, even coats every single time.
This brand of paint can be used whether you need to paint the entirety of all the wheels on your car or just need to do a spot paint job as the paint is formulated to exactly match the color that came on the original wheel.
Pros
Sprays on evenly;
Dries very quickly;
Matches factory allow color;
Affordable option.
Cons
Durable enough to withstand high-pressure washes and everyday wear and tear.
Some users report that the tip of the can clog easily and causes splatter, so constant tip wiping is essential.
Need at least 3-4 cans to do all the wheels on the car.
Some colors like the Chrome are not exact matches so they need to be tested before use.
This paint is best used on a steel or aluminum wheel and can give you one of the highest quality paint jobs without breaking the bank.
It has a rubber-based coating which means that if you mess up while painting, you can peel the paint off relatively easily before it dries completely which is a nearly impossible thing to do with other types of paint.
Once the paint is dried onto the surface completely, it adheres to steel and aluminum and is harder than a rock once it is completely cured, and is a non-slip paint.
All of the paint in the kit is extremely flexible even when dried and cured which means that even if you live in a place where there are extreme weather conditions, the paint will not get weak over time or start to crack.
It is so durable, flexible, and weather resistant that it can stand temperatures as low as -30 degrees and as high as 200 degrees.
Following the directions on the aerosol cans to the exact letter gives your wheels an elegant finish that will keep your wheels looking like they are brand new for years to come!
Pros
As long as you use slow, even strokes the finished product looks professional. Mistakes are easy to fix or peel off as long as it is taken care of before it dries.
It is designed to adhere even to Plasti-dip but tends to form bubbles on that material if it does not have enough time to dry between coats.
Comes with a spray handle so fewer mistakes are likely that allows you to have more control over the space that you are painting.
Such an easy product to apply that it is hard to screw it up as long as you follow the instructions.
Cons
Spray tip on the aerosol can tend to drip small amounts of paint over the surface.
You have to wet sand, dry sand, scrub the wheel with wool, then clean it off before painting it.
If sprayed on from too close or too far away from the wheel, the finish tends to come out beady.
If your wheels are looking faded and old and you want an elegant shine that you once had when you first bought the car, the Superwrap Sprayable Vinyl Wrap is the spray paint for you.
This formula is a vinyl-based one that is designed to be exceptionally powerful and give your car's wheels a glossy finish for years.
It goes on easily when properly applied and gives the wheels a shiny, smooth finish that you are looking for.
This vinyl spray paint is a favorite among many do it yourself-ers as you don't have to do any prep work before applying it to the wheels. The glossy black color dries and gives a professional look.
If you make a mistake you can easily peel the paint off within the first five minutes so you can get it off without having to sand it down and start over from the beginning. If you do have to make a mistake however and want to peel the paint off, you have to move quickly as the paint dries incredibly fast and the whole process can be done in five minutes or less per wheel.
Pros
Paint comes out of the can very precisely so that you don't have to remove the tires from the wheels and it can still be done accurately.
Durable enough to withstand rocks and sands and any extreme temperatures.
Does not leave any drips or streaks when done and applies evenly across the entire wheel giving a professional finished look.
Cons
Some find that it dries too quickly to allow for a seamless finish on each coating.
Can take anywhere between five and six coats of paint for you to get the exact color you are looking for.
Works best if you are painting the wheel the same factory color that it came with for you to get the true color you are going for.
Though you do not need any preparation work like sanding and cleaning, it tends to work best if used with a primer which is an added expense and adds to the time you put in.
When choosing between any of these great spray paints, there are a couple of things to take into consideration before settling on the one you want to buy. Find the one that is going to spray onto your wheel evenly. Most of these paint brands come with an easy touch nozzle which helps give you control while you are spraying so that the end product is seamless.
Consider how fast you need the project to be done. If you are wanting to paint and get back on the road as fast as possible, it is recommended that you look for a paint that has a little drying and curing time as possible.
If you are looking to pimp your ride and give your wheels a new life without breaking the bank or taking a lot of time, the best option to take is to find good spray paint. As long as you follow instructions, you will end up with a professional looking finish that is long-lasting, durable and keeps your wheels looking as nice as the day you bought them.
Spray Paint for Rims – Buyer's Guide
Wheel rims come from the factory with a color and finish that may clash if you give your vehicle a new paint job. Sometimes, you just want a different look for your wheels. Either way, there's a number of factors to consider when choosing the right spray paint to give your wheel the look that you want.
Color and Finish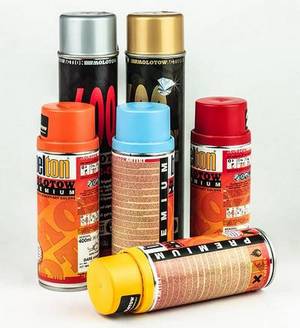 The color and finish is ultimately the most important factor to choosing which paint to buy. If you aren't familiar with the exact look the different finishes have once the paint is dry, it may be a good idea to test a couple options before committing to one to use on all four wheels.
The typical finishes available are matte, satin, semi-gloss, and high gloss. The difference between them is largely a matter of how shiny the finish will be. Low reflection finishes like matte and satin will have a rougher texture.
Durability
Wheel rims take more of a beating over time than the body paint of a car, especially if you drive on gravel or dirt roads. Flying debris and rocks on freeways can hit them at high speed and chip the paint during commutes as well. You should choose a paint that's intended for wheels for this reason. It'll have the durability that's needed for it to be a long-lasting paint job.
Heat Resistance
If you'll be painting calipers and brake assemblies as well as the wheel rims, heat resistance is important. Brakes can produce high heat when you brake at high speed or ride them on long downhill slopes. If the paint isn't intended for the heat involved, it could blister or even smoke.
Drying Time
You'll also want to consider the time it takes for a coat of paint to completely dry when choosing a product.
The faster drying varieties will be less likely to drip or streak, and they'll also involve shorter waits between coat applications.
If you plan to add three coats of paint and the paint you choose has a 30-minute drying time, you'll spend no less than 90 minutes painting your wheels. That's in addition to the primer and a clear coat if they're needed.
How many cans of paint do I need for rims?
This will depend on the total surface area of your wheel rims and the amount of paint in each can of the product you buy. An 11-ounce can of paint is typically enough to coat two rims.
If you know the wheel size that you have, which is the number after the "R" in a tire code (such as P250/50R15), you can ask the sales associates at auto paint stores how much you'll need based on that.
About Primer
When painting metallic surfaces like wheel rims, many paints require a primer coating to be applied first.
It's a preparatory coating that's designed to create a smooth and consistent surface for a thinner colored paint to adhere to.
Primers will also offer better protection against corrosion if the paint is badly chipped or scratched. Check the paint's instructions for recommendations about the right primer to use.
How to Spray Paint Your Rims
In order to ensure a paint finish that looks as good as brand new wheels from the factory, you'll need to follow a basic procedure to avoid imperfections and poor paint adhesion. There are four basic steps:
1. Clean the wheels
It's important to clean your wheel rims thoroughly before you begin, removing any grease, oil, dust, or other type of contaminant that will interfere with the primer bonding with its surface. If they're already bare of previous paint and rust free, you can proceed to step 3. If you're painting used wheels, you'll need to go to step 2 first.
2. Sand your wheels and remove any rust
Wheel rims that have paint or rust on them need to have it removed. You can find paint removal solutions that dissolve old paint, so it can be stripped it off quickly. Rust will need to be sanded off in most cases to ensure a bare metal surface. Otherwise, corrosion underneath the paint will cause it to blister and crack.
3. Apply a coat of primer as needed
Before you start painting your rims, you should first tape newspaper over your tires if you haven't removed them from the rims.
Spray paint can travel a distance in the air because you need to hold the can away from the surface you're painting. It's safest to cover the sidewalls completely.
You'll also need to cover the value stem to prevent it from getting coated or clogged. A trick to accomplish this quickly is to cut a finger off a glove and tape it onto the stem.
Once you're ready, apply two or three coats of primer if your paint calls for it. Let each coat dry completely before spraying the next coat onto the rims.
4. Apply the number coats of paint recommended
Once the primer is dry, follow the instructions for the paint you're applying to your wheels. Colored paints have different thicknesses and drying times that affect the precise way they should be applied and the number of coats that will be needed. Follow the manufacturer's instructions carefully.
After the paint is applied and completely dry, you can apply a clear coat of sealant to protect the paint surface from wear and give it an extra glossy look. Once the top coat is completely dry, you can remove the coverings from your tires and put them back on your vehicle.
Conclusion
That covers the key factors and basic procedure for painting your wheels with a color and finish that matches your vehicle the way you like it. Your miles may vary depending on the type of paint your using and the condition of your wheels, so be sure to research the finer details if you have any questions before you begin.