Best Roadside Safety Discs – Buyer's Guide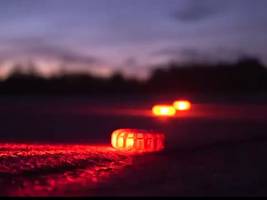 Whether it's getting a flat tire or a stalled engine, emergency situations can happen at any time when you're driving.
Drivers should have the necessary tools to help them when unexpected events occur on the road. The last thing you want is to be stuck on a busy highway with no equipment to alert passing vehicle to your presence.
LED flares are made to be used repeatedly, which means that they aren't disposable. The patterns make it easy for anyone nearby to see you, lowering the chances of having a collision when stuck on the road in poor weather conditions.
Reviewed below are six of the best roadside safety discs currently being sold, with each having unique benefits and advantages. After that, head over to the Buyer's Guide for additional tips and shopping guidelines.
Best Roadside Safety Discs in Oct, 2019

The Hokena LED Road Flares are sold in a pack of three and look the same as any other flasher but carries lots of features.
For starters, the lights have nine presets and the last one used is remembered. That means you won't have to spend time switching through the patterns to get back to the one you used the last time it was activated. Operations range from Alternating blinks to Morse Code; every presets can respond to any emergency situation on the road.
There's also a strong carrying bag included with the product that serves to protect them when stored in your vehicle. The batteries won't corrode from the heat or cold when put away, along with preventing dust and grime from aging the flare's body.
The magnets are powerful and should stay attached to your vehicle no matter it covered with ice or soaking wet.
One annoyance could be how hard it is to get gain access to the batteries. You will have to unscrew them when they must be changed. The screwdriver is cheaply made (unlike the rest of the product) and may become stripped if you apply too much force when turning it open.
If you can, consider changing the screw with one that's denser and unlikely to strip. You don't want to run into these problems when you're in the middle of the road with a broken down car, so it's best to check immediately upon unboxing the product.
Overall, the Hokena flare set is a great item to add to your vehicle's emergency kit and will last years after being purchased.
Pros
The lights are programmed to save the last mode that was used previously, saving time if they are needed again.
Comes with a durable carrying case that fits the light inside without the need to force them in.
Magnets placed on the lights are covered to prevent any damages occuring to the vehicle when they are used.
Cons
The battery case (used AAA batteries) must be unscrewed to access.
The lights move easily when heavy vehicles pass by.
The Garage Monkey comes in a pack of four and will use every drop of the battery's juice before running out.
Battery life is key here and will give you about ten hours of power. This is very important, particularly if you're stranded in a location where assistance or AAA won't come quickly.
If you leave them in the case for a long time, batteries won't become damaged. A year could pass and the they should remain functional, as if they were acquired on the present day, hypothetically speaking.
There's six presets which include the easily recognizable S-O-S signal, so you'll able to get help quickly if a situation calls for it.
Just look at the instruction manual when you get ready to open it. It's a little confusing when attempting to do it without. You could end up breaking the flares to reach the batteries if you're not careful. Furthermore, they aren't included with the set either, which means that you'll have to get a pack separately from the product. While not a big issue, it would have been nice to see some included.
Still, the Garage Monkey is suggested for any motorist that hates changing batteries too often.
Pros
Even when the batteries are low in power, the lights will not lose their brightness.
Instead of the usual 3 that are commonly sold with most road flares, four are included.
Batteries, when installed, do not wear down when left inside the device.
Cons
Installing the batteries are difficult without reading the instruction manual.
No batteries included with the set.

The Heliar LED Road Flares is rugged and strong, sold in pack of three. It's dense outer shell can be run over, tossed in the air, and submerged in water without breaking.
Flashes are very bright. Motorists will see you from afar, no matter if you're stuck in the rain or snow. Daylight visibility is also nice. Overcast or partially sunny skies won't block its reflective capabilities, so use them any time of the day or night.
The product has nine different modes of operation. Blinking mode can reduce power consumption, but the brightness will not decrease. When the batteries start losing their power, the lights also go out.
Like many other LED flashes, it is again difficult to replace batteries in this product. Learn how to do this before you place them in your trunk, and the annoyance of not knowing how to access them should not become a nuisance.
Take Heliar Road Flares with you no matter where you take, either on a boat or camping in an RV; they won't break even if you don't store them in the carrying case.
Pros
Strong and made from dense plastic; should last for years without needing a replacement.
The light shines with a deep orange hue, making it easy to notice during the day or night.
Holds its brightness for the duration of the batteries" charge (no dimming).
Cons
Opening the lights to put in batteries is a chore that can easily damage them if done incorrectly.
The Stonepoint's three sets of Emergency LED Road Flares have the major advantage within their presets. They switch quickly and flash at a rate that's easy for people to see when they drive past. There are only two featured on the flares, of which are a flashing pattern and a speedier strobe.
The carrying case is a plus and will even hold more flares than necessary.
The biggest drawback is that the product doesn't come with any instructions. If you have never operated LED flares before, this could be an issue.
Regardless, the Stonepoint is great for anyone that cares more about presets on flares than anything else.
Pros
With fewer modes, the batteries may last much longer than its competitors.
The carrying bag has enough space to fit an additional set if needed.
Doesn't damage easily if a lightweight vehicle drives over it.
Cons
The presents can only be turned on from one individual light.
Doesn't feature any instructions with the product

The Magnatek's dual LED Beacons are suggested for people that drive primarily at night. There are three presets given, with each being easy to notice without motorists straining their eyes. It's flash and no flash setting shine red, which can be made out easily when placed on the side of a car or beside it.
The batteries can also be placed inside quickly and don't take long to disassemble.
You could also the magnets anywhere on your car and not worry about it falling off too. Use it to view your car's engine or truck better by placing it on top of the hood/truck. You can quickly take care of repair work or change a flat tire without needing a flashlight.
If you're a daytime driver, you may want to think twice about purchasing these though. They don't reflect well against the backdrop of the sun, even when it's overcast. Rain is okay, but don't expect any motorists to make out your flares until they're very close to your stalled location.
As such, the Magnatek is best for evening hours and should perform well in rural locations that have fewer street lights around.
Pros
Although there are only three modes featured with the lights, the patterns can be easily seen from a long distance away.
Installs quickly and efficiently without the need of an instruction manual.
The magnets are strong enough to be used for alternative purposes (such as light for quickly car repairs).
Cons
The lights don't perform well in daylight hours, particularly during overcast.

Last on the list is the Wagan EL2639-3, a durable and long-lasting three-pack flair set that operates with only three AAA batteries.
Out of the five products shown thus far, this one has the most number of presets. There are ten in total, of which have great luminosity when you're stuck in snowy or rainy weather.
The double-blink and pulse settings are great to use when the weather is bad, and your vehicle's visibility range will increase further than what a car's standard hazardous lights can offer. Even in inclement weather that's drier, such as sandstorms, the flares will remain visible at an acceptable distance.
The magnets could be stronger though. They will stick to our vehicle but could fall off at the slightest brush. And if you're car's covered in water, ice, or dirt, it may come off on its own. Additionally, the batteries may go bad if you leave them in for too long.
It's recommended that you change them out every six months, even if you haven't used the flares in that period. Nevertheless, the Wagan EL2639-3 would be well served for people that experience extreme weather conditions with the passing seasons.
Pros
Only three AAA batteries needed to operate the lights.
There are ten presents to choose from.
Holds up well against rain and dust if used during inclement weather.
Cons
The magnets are weak, making it difficult to attach to a vehicle or cone.
The batteries, if left in the device, will age quickly.
Roadside Safety Discs – Buyer's Guide
Led Emergency Beacons vs Pyrotechnic Flares vs Chemical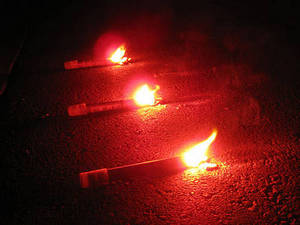 Overall, LED emergency flares are the safest and most reliable, beating out pyrotechnic and chemical beacons on most categories. In fact, many states forbid the use of anything but LEDs for vehicular use. If you're not sure, you could contact your state's transportation department.
They also will last a lot longer than chemical and fire operated brands since their power comes from batteries.
The only drawback is the brightness. It's difficult to compare to flares that use actual fire. Regardless, LEDs remain equal or brighter than chemical brands, and won't be useless after the first time of activation. If you need something that isn't temporary, then you should stick to LED lights over the alternatives.
Batteries, Time and Operating Modes
Like any electronic device, batteries make up the heart of LED flares. Most require AAA, but there are some that take AA or other alternatives.
Before you settle on one of the products shown in the reviews above, take note of how many batteries it requires. Some will need a surprisingly large amount, while others not so much.
Additionally, you should check to see how hard the cover will be to come off. Some brands will necessitate a screwdriver to do this. It's something that, while not a big issue, could become an annoyance if you're in a rush to get them inside the device in an emergency (if they aren't already).
Timing is important as well. Most LED flares have a life that ranges from 6 to 10 hours on a full battery. This time will change depending on which operating mode is being used.
For example, if you use an operating mode that makes the light shine more frequently than one that doesn't, you can expect a shorter battery life. So setting the flare to flash at a rate that blinks more often than a setting that doesn't will reduce the length of luminosity. Because of this, you should always make sure that there are plenty of batteries around for the flares to work as expected.
If you run into a situation where you end up using the flares for longer than an hour, it would be best to change them out for a pack that's new.
Storage Bag
The storage bag for your LED flares shouldn't be ignored. Even the most high-quality flare could potentially be ruined by a poorly designed carrying case. Most people store their flares in the truck on the vehicle, which means they will have to withstand the weather conditions of the region in which you reside.
If you stay in a location that gets very cold, a low-quality bag won't protect the electrical components inside of the flares, along with the batteries. And if these become affected, then the flare may not work at all.
Furthermore, look for a flare that features a bag with a large size. You could fit more inside if you end up purchasing additional sets to go along with those that came with the previous one.
Durability
Strength is another feature that can ensure that the flare you buy will last a long time. And by strength, a car should be able to run over the device without it breaking into little pieces. Look online and you will find videos of people testing out their flares, many of which will not break when something heavy is placed on top of them. No matter if it's kicked, rolled, or drenched in water, good flares should hold up. And if it doesn't look for another product if possible.
And while any flare can be broken if, say, an eighteen-wheeler rolls over it, you shouldn't worry too much about the occasional car that missed it while driving passed you on the road or highway.
How to Use LED Lights
As previously stated, LED flares will typically have several settings that will change the light pattern. These patterns could be used according to the emergency situation.
For instance, maybe your car breaks down and you need light in order to see into the hood or underneath the vehicle. The LED flare should have the option for you to turn on just one side of the circular light. In this way, it could perform as a makeshift flashlight if you don't already have one.
Or maybe you've stopped in the snow and require a pattern that makes the lights easier to see from a further distance away. Snow is often a big part of this. The light pattern could switch from more blinks per-second than the average setting, thus providing better visibility to drivers in snowy or foggy weather.
Alternative Uses
Maybe you live or take leisure time on a sailboat or other vehicle that isn't road-based. You don't have to use LED flares for vehicles alone. The possibilities are endless.
Take with your when hunting or fishing, or use them as an emergency indicator if you're planning a camping trip into the woods. If you become lost, it would be a lot easier for passers-by to see you with an LED light flashing.
Or maybe you're the creative type that needs something for cars to be able to see you during nighttime bike riding. Just prop one or two of the flares on the wheels of your bicycle and no car will pass you without taking note of the flashing.
Jogging isn't out of the question either. Attach to a jacked (on your back or front) so that motorists can see you several meters away before they get too close. LED flares are great for preventing emergencies from happening and getting you through them at the same time.
Mounting
Most LED flares will have something included with the product that will help you mount it to a level where the light doesn't have to rest on the asphalt. This is usually magnets, but may also be hooks or a stand that resembles those you may have seen construction workers using (the red and white poles).
The magnets will stick to your vehicle's body, which will help guide a driver's eyes to the focal point: your vehicle and its inhabitants.

The hook is better for areas that are difficult for magnets to be placed. Road obstacles, such as steel barriers or the rear of trailers being pulled make good examples.

Stands can be mounted on the road itself, and assist motorists by alerting them to merge into a lane that's away from your vehicle.
Conclusion
The LED flares shown in the reviews above have one thing in common. They will boost your safety on the road when unexpected situations arise. It is highly recommended that you acquire a set if you don't have anything similar in your car already. But while each product is exceptional, two definitely stand out from the rest, which is the Hokena and Garage Monkey both have great build quality, long lasting battery life, and multiple light settings.
Of course, don't take this as a criticism of the other products featured; they are also great for specific purposes and may work better for you when particular factors are taken into consideration. The details mentioned in the Buyer's Guide could help you decide if you haven't read it yet. When you've chosen what you want, it's a given that you will have a LED light that's sure to be satisfactory for you.