Best Floor Mats For Ford F150 – Buyer's Guide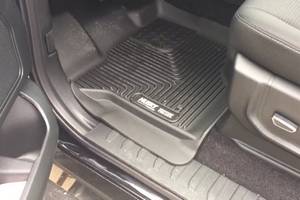 Choosing the best floor mats for your Ford F-150 might be a bit more complicated than you suspect. Numerous quality mats are on the market, but some are better than others. More importantly, the mats you choose should fit your specific needs.
It's best to consider a few factors before you purchase floor mats for your F150 such as your personal lifestyle, what you'll be using your truck for, the design you would like, and whether functionality or aesthetics are more important to you.
Moreover, it's important to compare the pros and cons of different floor mats.
In this article, five of the best floor mats for F150 are compared, including the advantages and disadvantages of each brand; the features of each product; and what reviews can tell us about the performance of these floor mats. We also offer a buyer's guide to help you choose which floor mats are best for you.
Top 5 Floor Mats for F150 in Oct, 2019
Some of the mats discussed below will fit any Ford F150 but may not be an exact fit and others were designed to fit specific Ford F150 models. Although we've ranked these floor mats 1-5, each of them has their own distinct advantages and disadvantages, and you wouldn't go wrong choosing any one of them.
First on our list is the Husky Liners 94051 Black Weatherbeater floor mats. We particularly like this set of rubber mats for a truck because they are made of a durable and easy to clean rubber.
These floor mats have several features that make them great for families, sportsman, travelers, and anyone else who will put their mats to good use.
The manufacturer promises a close fit and coverage that completely protects your floor from spills, mud, and the wearing and tearing they may endure. While they are tough mats, they're soft and engineered to keep you comfortable.
We particularly like that they have clamps to secure the mats in place, preventing them from sliding as well as being easy to install.
The Husky Liners 94051 Black Weatherbeater mats feature numerous pros and just a few cons, such as:
Pros
Groves that hold liquid spills until the rugs can be dumped and washed.
Thick durable rubber that can withstand continuous use.
Shaped to fit the curves and grooves of the truck floor, preventing sand and liquid from damaging the carpet.
Available for SuperCrew, Super Cab, and Standard Cab.
Work on vinyl and carpeted floors.
Cons
Not ideal for vinyl flooring.
Fasteners may break after extended use.
The Maxliner Floor Mats are second on our list, and they're a great option for those who want durable mats designed specifically for the F150 SuperCrew Cab. These rugged floor liners have a bucket design that pulls dirt and liquids to the bottom of the mat until you can clean them.
Our favorite feature is the open flap that comes about halfway to your door, so you can easily dump fluids and dirt outside the truck without any leaking onto your carpet.
These mats are designed with a tough, flexible plastic that molds to your flooring. When you first purchase them, they are stiff to preserve their shape.
The manufacturer suggests you allow the mats to warm in the sun before installation, so you can put them into your truck easily. After your liners have warmed, remove all other floor mats and snap the Maxliner Floor Mats into place.
Although the installation is a little more complex, we appreciate the durability of these mats and that they come with a lifetime warranty.
The Maxliner floor mats offer several advantages and a few disadvantages:
Pros
Lines the floor completely, including under the back seat where spills might leak through the seat.
Elevated sides trap in dirt and liquid until you can pour it off the meat.
They come with a lifetime warranty.
The plastic material repels stains and can be cleaned by wiping the mats down or spraying them with an all-purpose cleaner.
Side flap makes it easy to sweep or dump dirt and fluids out the side of the door.
Cons
Only available for SuperCrew Cab.
May break, crack, or wear down easy since they're plastic and not rubber.
For carpeted floors only.
Third on our list is Weathertech's floor liners for the 2015 to 2018 Ford F150s that are designed using the cab's distinct measurements to ensure the best fit.
We also appreciate that Weathertech includes trim lines. In case your floor mats have optional features incorporated that prevent their mats from being a perfect fit, you can trim them to fit better.
However, do not trim them too much, Weathertech's mats are intended to cover the front, sides, and back of your floor for complete protection.
Weathertech's mats are engineered with a weather protective material that is patented, but our favorite feature is their double incline that pulls and holds dirt and liquid in the bottom of the mat until it can be cleaned.
They're engineered with tough materials and features to withstand long-term use and exposure to environmental elements. Moreover, they can be installed in seconds, but you should make sure the mats do not restrict pedal movement or cover any necessary features.
You can either snap the mats in place with your factory hooks or use Weathertech's clamps that secure to your floor, then snap into the mat's hooks.
Although Weathertech is fourth on our list, don't underestimate these mats. They're known to be one of the greatest brands for people who will put them through some abuse.
The pros and cons for Weathertech's floor liners for the 2015-2018 Ford F150s include:
Pros
Strong, durable material that can withstand prolonged use and exposure to the elements.
Grooves and elevated sides trap in debris and spills.
Molds to the shape of the truck's floor, providing an extra seal against liquids and soil.
Bucket shaped design holds in liquid and dirt until you can clean the mats.
A flap on the side of the doors makes it easy to remove dirt and fluids.
Cons
Doesn't fit anything other than 2015 – 2018 F150 SuperCrew with bucket seats in the front­.
Fourth on our list is the 3D MAXpider Weather Floor Mats for the F150 SuperCrew because they are some of the best floor mats on the market.
They feature an elegant design that blends well with your carpet but gives you all the protection a tough, rubber mat has to offer. A combination of rubber and carbon fiber material is the secret to their durability, functionality, and aesthetics.
Furthermore, their triple-layers include a cushion in the middle to keep your feet comfortable during long rides. We also like that they will fit most F150 SuperCrew Cabs.
You can install these easily using MAXSpider's patented cleats that grip your carpet without damaging it as hooks will do over time. The carbon fiber material is waterproof and easy to clean. These mats are best suited for those who do not want the rugged look associated with tougher mats.
Let's take a look at the 3D MAXpider Weather Floor Mat's pros and cons:
Pros
Special cleats that lock the mat in place without leaving marks in the carpet.
Triple cushioned material keeps your feet comfortable during long rides.
Designed for most F150 SuperCrew Cabs.
Raised lip catches and holds spills.
Elegant looking design.
Cons
The slick surface may cause users to slip.
May not be as durable as some of their competitors.
Last but certainly not least is the oEDRo Mats for 2015-2019 Ford F150 floor liners. Like some of the other brand's we've discussed, these mats were also designed for specific models.
oEDRo's mats feature ridges and reservoirs to protect your flooring; weather and odor protection; textured material to keep you and your passengers from slipping on the mats, and several other elements that make them easy to use and keep clean.
Their mats are easily installed by fitting them in place and using the hooks in your floor.
oEDRo's mats utilize the digital measurements of your truck model to manufacture liners that will completely cover your carpet.
The pros and cons of the oEDRo Mats for 2015-2019 Ford F150 are:
Pros
Cushioned to ensure users aren't resting their feet on a hard surface and also keeps feet comfortable during long rides.
Protection against odors and stains.
Completely covers sides, front, and back flooring.
Cons
Will not fit bench seat flooring for front seats.
Mats will secure to only carpeted floors.
Floor Mats for F150 – Buyer's Guide
There are several factors you should consider before you buy floor liners for your Ford F150. Those factors may include how the mats look, the brand's reputation, choosing mats that fit your specific model, the protection you'll need, and what type of material you want.
Personal Factors
One of the first things you should consider is your needs and the needs of the people who ride with you. If you travel a lot in your F150, you'll probably want cushioned floor mats, so your feet are comfortable during long rides. Ridges or slip resistance mats are ideal for those who are prone to falling, such as children, the disabled, or the elderly.
People commonly use their trucks for muddy events and sports, in which case, you'll need stain-resistant floor mats that collect debris and are easy to clean. These type of floor mats are also handy if you have a family.
Another thing to consider is where you park your vehicle. You won't collect a lot of dirt on the floors if you park your truck on a cement driveway or in a covered garage. A dirt or clay driveway, however, will expose your mats to a lot of wear and tear over time.
Floor Mats Design
There aren't too many designs to choose from, but you'll want to consider if you want something that looks classy, if you want something that is durable, or if the design even matters to you. Some floor liners are clean and aesthetically pleasing but do not offer much protection while others look more rugged but protect your flooring well.
Most buyers prefer floor mats that are a balance of design and functionality. These types of mats are not necessarily great looking, but they are not ugly and protect your floors. As a result, most of the floor mats in this article have good designs with exceptional functionality.
Brand
The brand's reputation is another important factor you should consider before you purchase floor liners. Which is why we've chosen five brands that have a reputation for engineering quality, tough floor mats and have hundreds of satisfied customers.
Likewise, research how long the brand has been in business and whether or not they have created new features for floor mats. For instance, the 3D MAXpider floor mats that are featured in this article have a patent pending on their grip design because it's newly developed and secures to the flooring without damaging it.
Fit
You also need to consider what type of fit you want for the floors in your truck. Some floor mats provide minimal coverage but look better and have clasps or cleats that lock the floor liner in place. Meanwhile, some mats completely cover your truck flooring but the cleats on the bottom could damage your flooring if the mats are used for long time periods.
Also, make sure you buy floor liners that will fit the floors in your truck. Although all the mats in this article are for Ford F150s, some manufacturers' designs are only for specific models. Another key factor to think about is whether you want universal, custom, or model-specific fit mats.
Model Specific
You'll most likely get an exact fit because these mats have been developed for certain models, but your choices may be limited.
Universal. These are great floor mats if you're on a budget, because they are usually cheaper or if you want to be able to switch your floor mats from one vehicle to another. However, you won't get an exact fit, and this may expose your flooring to dirt, mud, and spills.
Trim to Fit. Trim to fit mats have special places where you can cut off parts of the mat to fit your truck's flooring. Many people like these mats because they can be customized for their floors, and they usually cost less than other floor liners.
Protection. Some of the floor mats in this article have sleek designs and are not the best at holding in trash and liquid while other floor liners have features that collect debris and fluids. This is something you need to consider before buying floor liners.
As previously mentioned, if you plan to use your truck for sports, travel, work, or any other activity where your floor mats might have to endure mud, water, dirt, or extensive use, then you should consider liners that can hold up to some abuse.
Carpet vs Vinyl or Rubber
The other choices you have are carpet, vinyl, or rubber liners and each has its own advantages and disadvantages. Let's take a look at each:
Carpet. They look classy and can easily blend with your truck's carpet flooring. However, they tend to absorb stains, wear down faster than vinyl or rubber, and can be harder to keep clean. As a result, none of the mats in this article are carpet.
Vinyl. Vinyl floor liners are easy to clean and waterproof. All you have to do is remove the mats, dump them, spray them down, and wipe them clean. As a result, they're one of the most popular types of liners, but they can be made cheaply and wear down quicker than comparable mats.
Rubber. These are one of the most durable types of floor mats, but they often do not look very nice. Rubber liners often have a rugged design, but can withstand prolonged use and exposure to dirt, spills, and mud. Like vinyl, you can wipe rubber mats clean.
Plastic. You probably associate plastic floor liners with cheaply made materials, but the floor mats in this article that are made from plastic are not poorly made. Engineers have come a long way with plastic materials, and exceptional, tough floor mats are being made from plastic. Plastic can be flexible and easy to clean.
Conclusion
The best floor liners for your truck depends on if you'll be using it around mud or dirt quite a bit or if you plan to have several people riding with you who might spill drinks and food in your truck. If this is the case, you might need durable rubber floor mats.
On the other hand, if your truck is for luxury riding only and won't be regularly exposed to substances that might be damaging to the floors and liners, then you'll be fine with simple mats that look nice.