Best Car Fire Extinguisher – Buyer's Guide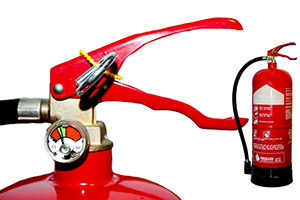 When getting ready to go on the road, you go through various habits and routines to ensure your safety. You also likely have a number of parts and tools onboard in case something goes wrong while in transit. One thing that many people might overlook is the need for a fire extinguisher for car.
If you have ever seen someone on the side of the road while their vehicle smokes and potentially rages with flames, then you will understand the value of keeping a fire extinguisher in your vehicle.
To help out, we scoured the market for the best 8 car fire extinguisher. To make things easier, we also have a buyer's guide that will let you know what you need.
TOP 8 Best Car Fire Extinguisher in Oct, 2019
Amerex may not necessarily be the oldest or most experienced company on our list, but with over four and a half decades of history, the company is well acquainted with the market. On top of that, Amerex is responsible for plenty of OEM contracts which necessitate a high level of consistent quality.
Of course, quality is one thing while convenience is an altogether different thing. Is this regard, the Amerex B417T definitely meets the standard of the former but might not make the latter. Regardless, this is still the best all-around value fire extinguisher for a car that we found.
All-Around Solid
The first thing to get out of that way is the fact that the Amerex B417T is a larger fire extinguisher with some of the largest volume and weight measurements we saw. On the other hand, this is your quintessential fire extinguisher that uses ammonium phosphate as a dry chemical agent to put out paper, liquid, and electric fires.
With a sustained pressure of 195 PSI, the Amerex B417T is able to fully discharge its contents in 10 seconds, ensuring that you do not have to worry about waiting for the agent to do its work. While you do have to clean up the residue afterward, you can at least recharge this model.
Pros
ABC-rated
Dry chemical agent
Has a discharge time of 10 seconds
Has a PSI of 195
Rechargeable
Cons
Pressure decreases over time
Fire Alert is another company on our list with an extensive history with a specialization in products focused on home safety more generally and fire safety more specifically. While the company originally started as an alarm brand, they quickly moved into other safety related products.
On top of that, this is actually one of the few companies we saw with clear distinctions between their commercial and their consumer-grade fire extinguishers. This product is definitely a consumer-grade model but still comes in as the best small co2 fire extinguisher for car that we saw.
Compact Power
One thing to consider with smaller fire extinguishers is that they are generally designed to be single-use only preventing you from recharging them once the initial extinguishing agent is spent.
Thankfully, the First Alert is actually the least expensive product on our list and would be the best budget fire extinguisher for your car were it not for the fact that it will not be suitable for all driver. Regardless, this product may be small, but it still provides 100 PSI of power and also features a built-in mounting bracket. Of course, the biggest feature of the First Alert is also one of the smallest as this fire extinguisher is the lightest we reviewed at only 2 pounds.
Pros
Compact size
Lightweight
BC-rated
Mounting bracket included
Has a PSI of 100
Cons
Only single-use
Not the largest capacity
Kidde has been in the business of keeping people safe for over a century with smoke and carbon monoxide detectors, but their fire extinguishers have pretty much become the standard in a number of industries. In fact, Kidde fire extinguishers are so popular that many fire extinguisher holder manufacturers use Kidde products as their baseline.
Of course, not everyone can afford to purchase a fire extinguisher costing over $100 which is why we feel that the Kidde Pro 210 is the best budget fire extinguisher that we found.
Solid Options
While the Kidde may not necessarily top our list in any of the most relevant specs, it does not lag behind the market either. One of the best qualities of this fire extinguisher is the fact that it is lighter than most of our other option by anywhere from 1 to 2 pounds–which makes a difference when trying to fasten it.
On top of that, this fire extinguisher provides 100 PSI providing more than enough pressure to shoot the extinguishing agent up to 15′. To top it all off, the Kidde fire extinguisher provides continued value by allowing you to recharge it once the initial extinguishing agent is spent.
Pros
ABC-rated
Lightweight
Maximum range of 15'
Has a PSI of 100
Rechargeable
Cons
Has a slower discharge
Has questionable QC
H3R Performance is considered one of the top-tier manufacturers of fire extinguishers but especially as it applies to performance situations. Aside from providing some of the better performing fire extinguishers, H3R Performance also makes it a point to use different materials than most of their competitors.
The overwhelming majority of fire extinguisher manufacturers use aluminum, but H3R Performance prefers to opt for the more durable steel instead. In fact, the entire H3R Performance MX250B features an all-metal construction, including the valves. Altogether the H3R Performance MX250B is our best ABC-rated fire extinguisher for automotive use that we saw.
Mostly Convenient
With the H3R Performance MX250B, you get a fire extinguisher that offers a maximum range of 15' which is the second most on our list. This allows you to safely put out the fire without having to risk injury or death by getting too close to the blaze.
This particular fire extinguisher is also rechargeable which means you do not have to buy a new one after spending the extinguishing agent in this one. That said, this is definitely one of the more expensive fire extinguishers we saw–especially for an ABC-rated model. Still, it does come with the mounting hardware needed to safely fasten it to your vehicle.
Pros
ABC-rated
All-metal construction
Rechargeable
Comes with mounting brackets
Maximum range of 15′
As one of the leading companies in the market, Amerex has been able to provide and create various types of specialized fire extinguishers. In this instance, they provide what we feel is the best K-rated fire extinguisher for a car.
It is important to note that this extinguishing agent is likely not necessary unless your vehicle runs on extremely combustible fuel. If you are choosing between the 3 grades at the gas pump, this is probably not the fire extinguisher for you. However, if your supercar requires particular fuel or it will overheat in minutes, then the Amerex B410T is probably your best option.
Quick and Easy
When looking at the Amerex B410T, one of the first things that jump out is how easy it is to use in all contexts. For one, this fire extinguisher comes with its own set of vehicular mounts that are very nearly universal for consumer-grade vehicles–though some extreme exceptions do persist.
The all-metal construction and valve ensure that you do not have to worry about the Amerex B410T failing when you need it most. Finally, it has a fairly compact frame for easy positioning as well as a fairly quick discharge of 10 seconds.
Pros
BC/K-rated
PURPLE K Agent
Has a discharge time of 10 seconds
Comes with vehicular mounts
Has an all-metal construction
Cons
More expensive
Not suitable for common fires
Amerex makes yet another appearance on our list with this instance focusing more on the worst-case scenarios you are liable to encounter in an automobile. Specifically, paper, cloth, and plastic might be a minor concern, but the far greater threat has to be the gasoline.
As such, it is far more important in most instances that your vehicle's fire extinguisher focuses on putting out flammable liquids and electrical fires than anything else. This is where the Amerex B385TS comes along as the best BC-rated fire extinguisher for a car.
Super Convenient
Beyond its attention to the vehicular setting, the Amerex B385TS is also an incredibly convenient fire extinguisher as noted by its numerous time-saving features. For one, this is the fastest discharging fire extinguisher on our list with a total discharge time of only 9 seconds. On top of that, the Amerex B385TS achieves is BC rating by using halotron 1 for its extinguishing agent. The Amerex B385TS' formula is highly rated environmentally and leaves no mess or residue to clean up afterward.
Pros
Does not leave a residue
BC-rated
Halotron 1 agent
Has a discharge time of 9 seconds
Eco-friendly
Comes with vehicular mounts
Cons
More expensive
Not suitable for common fires
H3R Performance makes another appearance on our list, but this time, the top-tier fire extinguisher brand enters the messless market.
Like other messless fire extinguishers, the H3R Performance HG100C HalGuard uses a halotron 1 extinguishing agent. This is convenient because it does not leave any residue while also falling well-within the EPA's regulations for ozone depletion.
This combined with an all-around solid construction is why we rate the H3R Performance HG100C HalGuard as our best halotron 1 fire extinguisher for a car.
Good Build
Beyond the halotron 1's convenience, the H3R Performance HG100C HalGuard still makes sure that the entire product is in good working order.
For instance, this fire extinguisher uses steel throughout the build, much like the other products in their lineup. That said, this company still managed to provide one of the more compact fire extinguishers as well. This reduction in size also means that the H3R Performance HG100C HalGuard is a fairly lightweight fire extinguisher too.
Pros
Does not leave a residue
Lightweight
BC-rated
Has a halotron 1 agent
All-metal construction
Cons
More expensive
Has a shorter maximum range
Amerex makes one final appearance on our list, but this time they may be stretching the boundaries of what is generally considered a fire extinguisher for cars. This is due to the fact that the Amerex B402 is one of the largest fire extinguishers that we reviewed. While this does carry with it some benefits, the fact remains that this fire extinguisher will inherently be more difficult to situate due to its larger size.
That said, the Amerex B402 does offer some of the best specs that we saw which why we ranked it as our best large fire extinguisher for a car.
Top Rated
If you are driving in a larger vehicle, you may not be concerned with the Amerex B402's larger size.
In this instance, there is a good chance that you will appreciate the features that larger profile affords. For instance, this fire extinguisher has the longest maximum distance at 18′, which allows you to stay far enough away from any fire to avoid being burned. This maximum distance is a result of the tank being kept under 195 psi. Of course, the fact that the tank and valve system are all-metal and can hold significantly more extinguishing agent that most more than makes up for the fact that it will occupy much more space than others do.
Pros
Can put out larger fires than most
ABC-rated
All-metal construction
Has a PSI of 195
Maximum range 18'
Rechargeable
Cons
It takes a lot of space
Not comfortable mount
Of course, once you have figured which is the best fire extinguisher for your car, you then need to figure out how you will fasten or secure it within the vehicle to ensure that it is easily accessible when you need it.
While most fire extinguishers come with one type of mounting hardware or another, not all of them come with mounting for vehicles specifically. On top of that, most mounting hardware for vehicles require you to drill holes into the chassis of your vehicle which decreases its resale value. One way to alleviate this concern is to get a fire extinguisher holder that does not require screws or other similar fasteners to be mounted.
Roll with It
While not every vehicle comes with a roll bar frame, those that do no longer need to worry about mounting their fire extinguisher with metal hardware. Instead, you can use these three velcro straps that were designed explicitly to hold Kidde brand fire extinguishers and those of a similar size.
This arrangement is incredibly convenient as well as being extremely versatile even with the smaller fire extinguisher size limitation. Basically, while this particular product was designed to be fastened to a roll bar frame, it will work pretty much with any similar kind of cylindrical frame.
Pros
Has 3 velcro straps
Easy to install
Easily transferred to a new vehicle
Can hold drinking bottles
Cons
Not for larger fire extinguishers
Another difficult arrangement for automotive fire extinguishers comes from off-road vehicles which deal with significantly more intense vibration than any other situation. As such, an off-road fire extinguisher needs to be designed in such a way that even the most violent jostling will not dislodge the fire extinguisher to flail about the cabin, potentially damaging the interior as well as threatening bodily harm to the driver.
With this in mind, the Drake fire extinguisher mount offers such a rock-solid build that it is by and far the best off-road fire extinguisher holder that we came across.
Great Build
One thing that an off-road fire extinguisher holder will have to provide that a consumer-grade model would not is significant strength and durability.
While many simply provide some option to bolt the fire extinguisher to the chassis, the Drake FIREX-MNT-DOR outdoes them all by making this one of the sturdiest and most functional holders we found.
To begin with, this fire extinguisher holder is made of 6061-T6 billet aluminum which is strong, lightweight, and naturally resistant to rust and corrosion. On top of that, this fire extinguisher holder also comes with a quick-release function that allows you to have the fire extinguisher in hand at a moment's notice.
Pros
Made of 6061-T6 billet aluminum
Has quick-release function
Suitable for off-road vehicles
Has multiple mounting options
Is approved by the NHRA
Cons
Is a more expensive holder
Fire Extinguisher for Car – Buyer's Guide
What Size of Fire Extinguisher Suits a Car?
Depending on where and how you plan to mount the fire extinguisher, this answer will be different for different people. If you do not mind drilling into the chassis of your car, then you can feasibly bolt the fire extinguisher anywhere with the proper mounting equipment. On the other hand, fire extinguishers heavier than around 5 pounds can present their own kind of risk.
What Type of Fire Extinguisher is Best-Suited for a Car?
The types of fire extinguishers available generally include the most important type of rating which is B due to the presence and dangers presented by gasoline. That said, there are numerous different arrangements that include an agent which extinguishes B-rated fires. Another thing to consider is the mess that you may have to clean up afterward depending on the agent.
What do the A B C ratings mean on Fire Extinguishers (UL rating)?
ABC all refer to the different types of fires that the extinguishing agent is effective on:
A-rated fires are those with a solid, non-electric fuel source like paper, cloth, or plastic.
B-rated fires are those that involve flammable liquids like gasoline.
C-rated fires are those that are generated by a short somewhere along an electric circuit that starts a fire on the electronic components.
The number following the rating refers to the size of that type of fire the extinguisher is capable of extinguishing.
Types of extinguishing agents
For an automotive fire extinguisher, the best agents are those which put out B-rated fires. Of course, numerous agents put out a wide variety of different types of fires–not just a single rating. The most common extinguishing agents for automotive fire extinguishers are ammonium phosphates, sodium or potassium carbonates, and halotron 1. Of the three, halotron 1 leaves no mess or residue, but ammonium phosphates put out more types of fires.
Conclusion
In the end, there is not a single fire extinguisher that will work the best for everyone, but we still think that the Amerex B417T offers the best all-around value for the most people. While it is a bit larger and heavier than some of the other options, it is not outside the standards for an automotive fire extinguisher.
On top of that, the Amerex B417T also boast high pressure and a quick discharge with an agent that puts out most of the common fire a driver is liable to encounter. Just be aware that you will have to clean up the mess of a residue after use, but you can recharge the canister.