Best Caliper Paint – Reviews & Buyer's Guide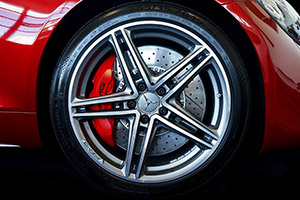 Having a good looking car can be its reward, and many car owners love to put in a bit extra so that their car stands out from the rest. For this reason, painting the calipers of the brake system is becoming a popular way of tweaking the appearance of a car in an unexpected way.
When you paint your brake calipers, the flash of color becomes very apparent when you're under way, especially if your vehicle has large calipers. Finding the best caliper paint will come down to personal preference, but there are a lot of advantages to customizing the look of your car this way.
TOP 5 Best Caliper Paint in Oct, 2019
The first product in the guide comes to us from G2. It's a high-gloss paint kit that can withstand temperatures up to nearly 1,000 degrees Fahrenheit. This means that this is a good option for car owners that tend to push their brake system.
The G2 system is a brush-on product, which usually provides you with a thicker application as well as a very controlled paint-on application method.
It's Complete
As mentioned, this is a kit, and as a result, it comes with several components including brake cleaner, the paint itself, and a brush. There's also brake caliper reactor that's designed to react to the paint to make it more manageable. Once you are ready to apply the product, you'll have to mix it at an 8:1 ratio.
It's important to understand that bristle brushes, like the one included in the kit, can leave streaks. If you don't want to monitor this, a foam brush can be a great applicator.
This product comes in 11 shades, so you can easily paint your caliper in fairly standard colors like red and green or go with more unique colors like gold or purple.
A Fully Featured Caliper Paint System
In addition to the aesthetic advantages of using this caliper paint, there are some practical advantages as well. For instance, these paints also provide good chemical protection so that salt from the roads won't damage the calipers. Additionally, the coat is thick enough to prevent rust from appearing on the metal surfaces.
When it comes to quality, we recommend this product for anyone that wants a glossy appearance on their caliper system. It also has a wide variety of colors to choose from, which can sweeten the deal a bit.
Pros
The gloss is very attractive.
It's a kit, so everything is provided.
There's a wide range of available colors.
Cons
The brush is a bristle brush that can leave bristles behind.
The paint isn't self-leveling, so streaks can form.
The VHT SP731 caliper painting system is a spray-on product that makes it reasonably easy to coat the calipers of your brakes in a beautiful and vibrant red color. In addition to this "real red" option, VHT offers other colors like bright yellow, gloss black, gold, and seven additional varied hues.
One of the features that may appeal to those looking to mod the look of their vehicle is the fact that these VHT shades are glossy right out of the can, which seems very attractive.
Strong Performance
In addition to the aesthetic merits of the product, this paint provides some excellent protection for this vital component of your braking system. Not only is it designed to protect the calipers from factors like rust and chemicals, but it can also manage heat up to 900 degrees Fahrenheit.
This heat resistance depends on you curing the calipers properly, but this high tolerance for heat means that you can expect that same level of brightness and shine, even when you're pushing the capacity of your brake system.
It Lasts
Also, the product will dry in about a half hour, which means that this is genuinely a fast-acting caliper paint. VHT has also designed the product to never chip, and the colors should remain vibrant for years of use.
Overall, we can recommend this product to just about anyone that wants to quickly paint their calipers. The colors are vibrant, and the 30-minute drying time is very convenient for those that don't want to spend all day prepping their calipers.
Pros
It has a 30-minute drying time.
Once it's cured, the product has a vibrant and attractive shine.
The spray-on system ensures a flat and even coat.
Cons
This will only work best if you apply an undercoat.
The color on the cap of the canister doesn't exactly match the color of the painted caliper.
The can applies the paint at a high rate, which means that you can get paint everywhere if you're not careful.
As a brush-on product, the POR-15 caliper paint provides a reasonably even and standard application that can help you quickly get your calipers painted in your choice of five different shades. These shades include black, silver, blue, red, and yellow, so you have some options.
Each hue is relatively vibrant, and once they've dried, they have a somewhat glossy finish that's pretty attractive on most calipers.
Easy Application
The product comes in a canister that provides eight fluid ounces of the paint, which should be enough to coat most caliper systems.
It's important to note that this isn't a kit, so if you're going to purchase this POR-15 product, you're going to need a foam or bristle brush to apply the paint to your brake system.
Once applied, the paint has a tendency to flatten out somewhat, so you may not have to worry about streaks on your calipers.
Good Functionality
When it comes to protective functionality, this product is designed to be reasonably durable and will protect your calipers from most road chemicals and rust. When it comes to thermal protection, this caliper paint will withstand temperatures as high as 500 degrees Fahrenheit, which should provide you plenty of heat resistance for most standard driving applications.
Overall, this is a recommended product for anyone that wants merely a relatively protective coat of paint on their calipers. While it won't be great for hard-pushed vehicles that have particularly hot brake systems, it's more than capable of withstanding standard workloads.
Pros
There's more than enough paint in the canister to evenly coat all of your calipers.
The colors that they selected are very vibrant and make the calipers appear to be made of glossy ceramic.
It's pretty easy to paint this on the calipers without streaks forming.
Cons
The blue variation of the product is much darker than you might be expecting.
Over time, it's possible that the paint may start to exhibit cracks and chips.
This Dupli-Color product is another brush-style kit that includes just about everything you'll need to personally paint your calipers in up to seven shades. Included in the package, you'll find a caliper cleaner, about eight ounces of caliper paint, an application brush, a stir stick, and masking tape.
The fact that the product includes masking tape is particularly useful because it allows you to work the more delicate details of the paint job with relative ease.
It's Versatile
Also, the inclusion of the caliper cleaner also makes the whole process much more convenient; you simply buy the kit, and you pretty much have everything that you'll need to get started.
Dupli-Color included enough paint to coat four calipers evenly, but if you want more coats, you may have to buy more. Each of the seven color variants is made of a ceramic resin that will resist heat up to 500 degrees Fahrenheit.
Convenience in a Kit
When it comes to its other convenience features, this caliper paint also is fairly fast-drying for a brush product; once it's applied, it'll be dry to the touch in about a half hour, and it'll be safe to handle in about an hour. Insofar as the application, the product definitely brushes on smoothly, and once it's applied and dried, the paint will provide a fairly protective performance for your calipers.
For those that want a one-and-done style of experience, we recommend this product; not only does it provide you with everything you need to do the job, but it also has a detailed how-to manual. Additionally, the relatively low application and drying time makes it even more convenient.
Pros
This is a reasonably all-inclusive kit to purchase.
The paint goes on very smoothly.
The colors are made of ceramic resin, which has a fairly high level of thermal resistance.
Cons
The brush they provide isn't of the highest quality; it tends to leave bristles behind in the paint.
The paint can come out to be somewhat matte-looking, which isn't ideal for those that like high-gloss appearances.
Rust-Oleum is considered one of the leaders when it comes to car painting and protection, and this product works well for coating your calipers in up to three colors.
This is a spray-on product that has a design that will help you produce an even coat at various angles so that you can use it with the caliper installed or removed.
Once applied, the layer will be very glossy; in fact, out of the products in this guide, this product may be the most lustrous.
Designed with Performance in Mind
When it comes to its performance, this formulation is designed to prevent rust from forming completely, and it also has components that will prevent any chemicals found on the road from damaging your brake system.
When it comes to thermal resistance, this paint will absolutely not melt off under temperatures of 900 degrees Fahrenheit. This means that it provides a high level of protection for your caliper systems – even if they are overtaxed.
A Good Level of Protection
The product also resists chipping and cracking, and it has a fairly smooth application. Once applied, the color will remain consistent, and brake dust won't form on the calipers, even after an extended period.
For those that need a reasonably performant caliper paint, this product from Rust-Oleum does the job. It applies easily, dries at a fairly quick rate, and has a true-to-cap coloration that has a high-gloss finish.
Pros
The high heat resistance is very useful.
It applies very quickly and you should have extra for more coats.
It protects against the formation of rust deposits.
It has a very glossy finish.
Cons
You'll need a drop cloth to protect your vehicle and its wheel well from overspray – the nozzle seems a bit too enthusiastic.
Brake cleaner or brake fluid can remove this product from your calipers.
It can dry to a more burgundy color than you'd expect.
Best Caliper Paint – Buyer's Guide
When you're in the market for some brake caliper paint, it's imperative that you select the right product for the job. This means that the final selection should be heat resistant, have the right amount of durability during use, and dry to the color that you're looking for.
In addition to these, there are a few more considerations that you should take into account before you settle on a product. In this part of our guide, we're going to help you learn a bit more about these brake caliper paint systems so that you can make the right decision with your purchase.
Heat Resistance
Put simply, brakes can get very hot during their day-to-day operation. It's fairly common for the brake calipers on your vehicle to experience temperatures exceeding 400 degrees Fahrenheit. It's even common for the calipers on your brake system sometimes to reach temperatures that are hotter than the car's engine. As a result, just any old paint will quickly burn off, and you'll be left with the base metallic color of your caliper.
For this reason, it's essential to purchase a caliper paint that's designed to cope with the incredibly high temperatures that can be found in your brake system. Some of these paints can withstand temperatures of up to 750 degrees Celsius, so there are a lot of advantages to using these for the calipers of your brake system.
There are a couple of variations of heat resistant paints that can be used – some simply protect from high temperatures while others actually work as fire retarders and expand when heat is applied so that they provide an insulating barrier. In general, high-temperature paint works best in the brake system of most cars.
Durability
When you're painting the calipers of your brake system, it's essential that you select a good paint that is not only attractive but durable as well.
The brake system is a part of the car that not only generates high levels of heat but is also prone to be doused by chemicals that can be found on the road or coated in debris. In addition to this, water can play a part in causing rust on your brake calipers, so a functional layer of caliper paint should actively protect against all of these road conditions.
As a rule, the level of density should be a significant consideration when you're looking to ensure a good layer of protection for your calipers. Denser paints will more effectively protect against chemicals that are often found on the road like salt, and a thicker coat of paint will also prevent rust from taking hold on your metal components.
Just remember, that the densest brake caliper paints might also make for a muddier finish, so this may call for a happy medium if you're looking for more of a sheen.
Some prefer polymer-based paints because they create an enamel coating on the caliper. This coating is very durable and will help the component resist chipping, chemical damage, and even the high heat that is generated in this part of the car.
Caliper Paint Colors
To start, it's crucial to understand that not every single hue is going to be available when you're using a caliper paint system, but if you understand your options, you can have a very satisfying experience.
For example, the G2 system that we covered in the reviews has 11 different colors to choose from, and as a general rule, the companies that put out these products try to give you several high-profile options so that your calipers will be very visible.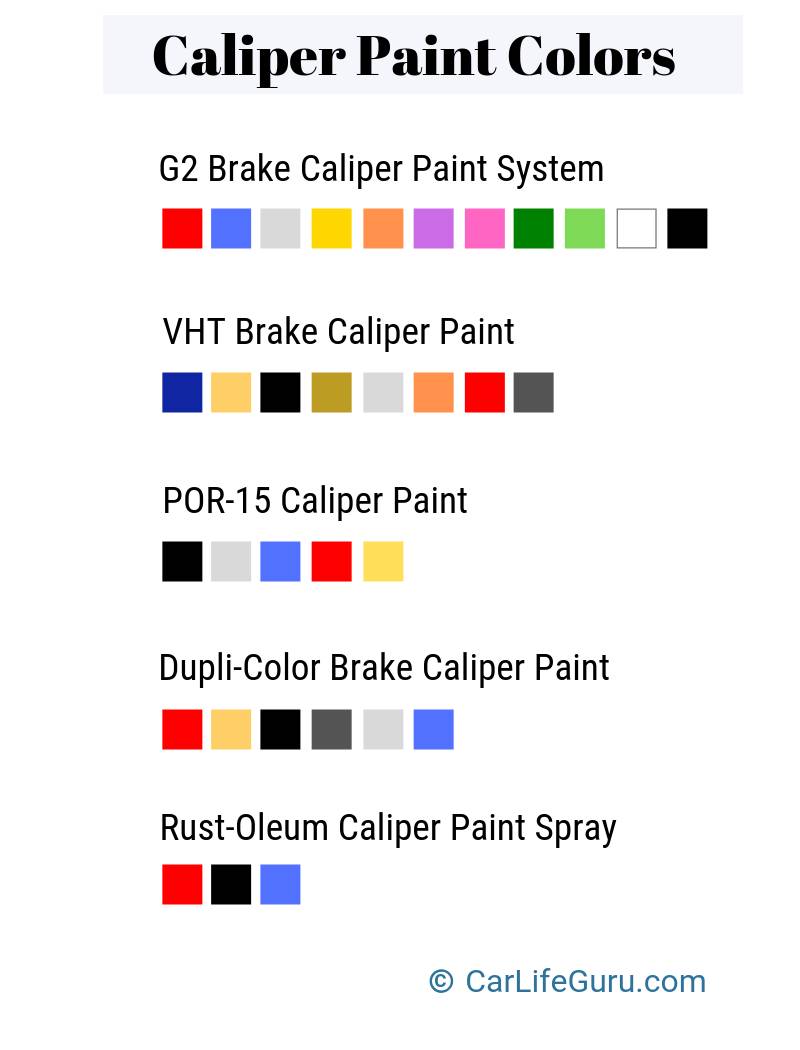 When painting your calipers, some systems have a primer, a clear coat, and a paint, and when you use these systems, you'll end up with a fairly high-gloss finish that won't be damaged by the high-pressure, high-heat environment of your brake system.
Remember, when painting, you'll need to let the paint dry and cure so that you can achieve the color that you're looking for – it won't always look right when you're still in the application stages.
Application Methods
When you're painting your calipers, there are two methods that are commonly used: brushing or spraying. As you might expect, if you're more meticulous, you may want to brush for more control, but if you want a faster job, spraying can be very quick. In this section of our buyer's guide, let's take more in-depth look at each style of painting:
Brush: in addition to granting you much more control when you're applying the coats, brushable caliper paint also makes the application of extra layers a cinch. In addition to these benefits, paint that is applied using the brush method also tends to be a bit thicker than spray-on.

A couple of drawbacks with brush-on paints is that the brush can leave streaks, and paint companies tend to pack in cheap brushes, which can leave bristles in your paint job.

Spray: If you're shooting for ease in application, spray-on paints are very advantageous. You can even use painter's tape to ensure that the other components of the brake system aren't coated with paint. Spray-on tends to go on smoother with a more balanced top paint layer.

If you're wondering about disadvantages, spray-on paints for the caliper can easily be mis-sprayed and get on other parts of the wheel well/exterior of the car. Additionally, if it isn't dry, and there's a wind, the paint can make a real mess.
Paint versus the Caliper Cover
When you're augmenting the look of your vehicle by customizing the front and rear calipers, you have two options: the caliper cover or simply painting the caliper. Both of these have some unique advantages, which we'll cover here:
The Caliper Cover: This type product slips directly on atop of your caliper. With caliper covers, you can have designs, various color options, and usually, they are very inexpensive. These are also typically customizable, and if your calipers look blah, a caliper cover can add some style to them. That being said, if you want the factory look, these don't work well.
Brake Caliper Paint: Caliper paint is even more inexpensive than the cover, and if you apply a protective clear coat, you can even apply special decals directly onto the caliper. These are also very protective and work well against chemicals and rust. Additionally, a good paint will resist chipping and cracking and will last for years.
How to Prepare the Surface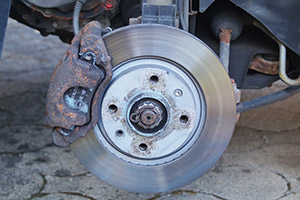 Once you've removed the calipers from the wheel assembly, it's a great idea to take off the brake pads and get ready to prepare the surface. To do this, you can use a stiff wire brush to clean the grime and rust off of the caliper surface. Once this is done, utilize mineral spirits to clean off the surface; these spirits will act as a solvent. Finally, after scrubbing, use a spray brake cleaner on the calipers to clean away any loose debris or grease.
Final Thoughts
Vehicle customization is a great way to set your car apart from the thousands of other vehicles of the same make and model that are on the road. Brake caliper paints provide a fairly easy and simple way to do this, and you can even complete the process yourself from the comfort of your home garage.
As technology progresses, we should start to see an increasing number of caliper customization colors and aesthetic options, which is why this is a great time to start to learn how to complete this kind of customization.